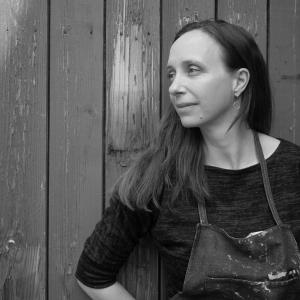 Alanna Peters
Artist member since 2018
Toronto , Ontario
Alanna Peters was born in Ottawa and currently lives in Toronto. She earned an Honours BA for Fine Arts from McMaster University (2001) and a BEd for Arts Based Learning from Queen's University (2005).
A recognized artist, her work is found in private and public collections in Canada, the United States, France, Germany and Uganda.
Artist statement:
As a contemporary figurative artist, Alanna works with oil on wood panel. Her style is the intersection between realism and painterly. Alanna is drawn to painting the human form as a way of connecting with the viewer on an emotional and deeply human experience. In recent works the figures have a fragile weightlessness paused in time and in movement. The works are calming and tranquil. Colours and contrast interact with each other and the paintings are built up through multiple thin layers of paint. Alanna has a desire to create the illusion of transparency through brushstrokes.
---
Describe your home in 3 words
alive, colourful, evolving
When I'm not making art, I'm (a) ...
parenting and playing with my 3 kids
Favourite medium
oil on wood panel
When did you start making art, and why?
I have been creating as long as I can remember. Painting really became my focus in University but I also love to experiment with many materials.
Only thing you need when you leave the house
All 3 kids!
Beverage of choice
Coffee!
Upcoming Exhibitions
2019-03-14
Elain Fleck Gallery, Toronto
Group Exhibition
Select Past Exhibitions
2018
ArtScape Sandbox, Toronto
Bombay Sapphire Artisan Series Semi-finalist
2018
Habour Banquet, Oakville
Finance and Fashion Women Entrepreneurs
2018
Blue Crow Gallery, Toronto
Evanescence, Solo Exhibition
2018
Blue Crow Gallery, Toronto
Summer Group Show
2017
Riverdale Art Walk, Toronto
Riverdale Art Walk
2019
Slanted Door Gallery, Toronto
Group Exhibition
2019
Artist Project, Toronto
Art Fair
Education
2001
McMaster University
B. Fine Art
2005
Queen's University
BEd Arts based learning
SHARE THIS ARTIST